Part 1, Russia
10 Sep 1999, Moscow

It's been a long and busy day in Moscow, trying to see everything around Kremlin and the Red Square in one day, and now I'm in a hurry.
It's 8.15 pm and I've just got my backpack from the lockers in Leningradskiy station and have to hurry back to Yaroslavskiy station before I miss my train, which leaves 8.25. I run the stairs up to the hall and fall. A nasty sound indicates that my bottle of Baltika beer has broken and spilled the brown liquid all over my things. Damn! I didn't really need that, like this banging headache would not be enough. Having to use some time to quickly clean up the mess I'm forced to run even faster, but have enough time to buy myself a new ten-rouble bottle of Baltika and three litres of water.
When I finally enter the train it starts to move almost immediately - exactly on schedule. (later I found out that Trans-Siberian train was almost all the time on schedule, which was a surprise to me) I manage to find my car and cabin, say zdrastviytye to the guy who's in there, open my beer and - fall asleep. This is it, after long waiting and preparing I'm finally travelling on the Trans-Siberian railroad; a dream come true!
---
11-13 Sep 1999, Trans-Siberian railroad
After twelve hours I finally woke up. It was Saturday morning somewhere between Sharya and Kotelnich and I was still 67 hours away from my destination: Irkutsk. It didn't take long (about two seconds) to understand that I didn't have any common words with my cabinmate. But I managed to find out that he is a bus driver from Siberia and his name is Pjotr. In my diary I decided to call him Petteri. It took a little more time (about two hours) to see that he is eager to feed me for the whole trip and that he insists on me to take some vodka always before and after every meal. I didn't mind the food - bread with lots of bacon, eggs, cucumber, tomatoes, chicken, cold potatoes etc. - but I did have to take my time with raw vodka. But I was happy not having to try the Russian restaurant car for a single time.
After all, 67 hours wasn't such a long time. Besides spending a lot of time looking out of the window to see almost the same kind of scenery as in Finland, I managed to read a novel about Ramses II and the most important parts of a couple of tourist guide books. I also found some American people in my car and enjoyed having someone to communicate with. Other people in the car were Russian and spoke - of course - only Russian, which I unfortunately know only a few words. People in other cars were more distant. One car was full of ballet dancers, who were training in the narrow corridor while the train kept going forward and swinging to all directions!
I was eager to see the Udmurt people who are the largest Fenno-Ugric language speakers in Russia. The train stopped in Glazov and Balyezino, but all I could see were some old people in rubber boots asking ridiculous prices for their bread and pancakes in the stations. Well, they looked really poor so I guess they can double their yearly income by selling one bread to a tourist in Trans-Siberian train...
These three stressless days in the train were really relaxing!


The nature and taiga forests may have resembled Finland,
but the villages and towns - such as Achinsk - certainly did not.
Before leaving Finland and Tampere I spent a long time analyzing the weather statistics in Siberia It looked like September would still be quite warm and fall would come only in October. After arriving in Irkutsk it soon became obvious that I had been too optimistic and that this had nothing to do with reality. It was 08 am, +5 degrees Celsius (41F) and so foggy that it was hard to see to the other side of the street. Fortunately the sun always came around at 1 pm and made things less depressive. Still, my first task in Irkutsk was to find a scarf and a woollen cap. Cap was the easy part. Scarf was the difficult part. I walked hours in the city centre and found only two places that sold scarves. In Siberia! I was almost desperate enough to buy a pair of stockings and use them as a scarf, until I finally found a very nice and warm red-and-black scarf for about four dollars.
---
14 Sep 1999, Irkutsk

Extraordinarily foggy, cold, too much traffic, no tourist facilities, car drivers who don't care about pedestrians, no good restaurants (so I had to eat what I found from the gastronomis), trams that are always more than full, bad service, people who don't even try to understand you, shops that sell only women's and children's clothes - that was my impression of "Paris of Siberia" at the first day. It didn't help at all to see people living in that kind of wooden houses that I can imagine were in fashion in Finland in the 19th century. Probably some of them really were from that period, but after the great fire in 1879. Irkutsk was the destination of many exiled nobles from Western Russia and the capital of Siberia in the early 1800s - partly because of the 'Gold Fever'. The city was linked to Moscow by railroad in 1898, has nowadays 600.000 inhabitants and has lost its status as the most important city in Siberia to Novosibirsk.
Three more days helped to get adjusted a little bit better and I even began to understand to some extent why someone lives here. But still, this kind of big city is not my idea of a relaxing holiday so I headed to Lake Baikal, to the village of Listvyanka. An old Finnish bus from the 70's took me there on Wednesday. (I was a little bit surprised to see a sign in a bus window, reading in Finnish: "Varauloskäynti. Hätätilanteessa riko lasi oheisella vasaralla".) If my hostess Tatyana wouldn't have written me a letter to be given at the bus station, buying a ticket would have been much more difficult.
---
15 Sep 1999, Lake Baikal

Baikal...the world's oldest lake. Baikal...the world's deepest lake. Baikal...20 % of all sweet water in the whole world. Baikal...I've always wanted to see it! And there I was, standing in the water, believing the old tale that this should extend my lifetime by five years. I didn't really feel like swimming, even though that's believed to give you as much as 25 years. 1620 metres deep or not; I still can't tolerate cold water.
First people I saw on the shore of the lake were...well, different. It looked like a family - father, mother, two teenaged kids and a very young boy. They were hiking on the rocky hills on the shore and I caught up with them. This was not a particularly easy place to walk in, because the hill was very steep and there were not any good paths. The father was sitting with the baby, but the others went further than I had the guts. Then they would stop in some place, turn their face towards the lake and start to murmur, almost like lama monks when they pray and learn the writings of Buddha. This seemed to continue for ages, at least longer than it took for me to get tired of looking at them. No one seemed to pay any attention to me. I don't know, maybe they were in some kind of pilgrimage or something. Very confusing.
After hiking along the forests and hills around Listvyanka, I was a little bit surprised to notice that I didn't enjoy it as much as I thought I would. I don't really know why. Maybe because the nature was too much like back home, even though 80 % of flora and fauna in Baikal should be unique. Of course there are the hills and mountains that Finland lacks (and I just love mountains), but still. I met these same American people that I had seen in the train. They looked like experienced travellers and some of them told me Baikal was the most beautiful thing they had ever seen. But I just didn't feel like it. From a Scandinavian point of view I would say Baikal was like parts of Finland and Faroe Islands put together, spiced with Norway and Iceland.
And of course, even though the lake is more than one mile deep, you don't really notice it staying on the ground.
---
16-17 Sep 1999, Irkutsk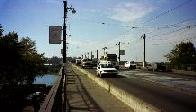 After Irkutsk the lake was like heaven of course, but I was looking for more and when I came back to the city I was already looking forward to getting to Mongolia!
I still had two more days in Irkutsk though and spent them by walking around with Patrick from Switzerland, who appeared to the house I was staying at. For the most of the time I was the only guest in this house that Lonely Planet told would be full (it could take 6 guests at the maximum). After Thursday I estimated I had walked about 100 km (60 miles) in three days and I really felt that on Friday which was my day-off. I wanted to try cycling as well, but unfortunately finding a place to rent a bicycle took too long. Or fortunately? I think I only saw two or three brave cyclists trying to survive in the hectic traffic of Irkutsk!
Even the delicious pancakes of my hostess in the last morning before leaving didn't change my mind - I was still longing for Mongolia. After all, she was charging me 20 dollars a night for a small, unheated room in a house that lacked hot water. Still, I can recommend her "Amerikansky Dom" in Ul Ostrovski 19 to anyone who doesn't need luxury. In Irkutsk almost everything is cheap, except hotels. At this point I have to confess that one day I really screwed up and unintenionally brought the whole curtain-system down in my room. I managed to get most of it back, although the holes in the wall were already too big for the curtain... Tatyana, if you're reading this: forgive me!
---
18 Sep 1999, Trans-Siberian railroad
Saturday morning again and once again I am on the railroad. This time in a Chinese train, which is very much similar to Russian. Except that it is a little bit...well...less Russian. And you can open the windows! From the window I throw my last glimpse back to the capital of Eastern Siberia and say guten morgen to my new cabinmates. This time I'm accompanied with people from Germany, Switzerland and Great Britain. I knew it already; this will be a different journey.
---
© Mika Perkiömäki - mikap@iki.fi Last modified: Wed Dec 29 23:31:50 EET 1999